Tartan Scarves, Wraps & Blankets
To assure delivery in time for the holidays please be sure to order all tartan products no later then October 15th.
These items are available in hundreds of worsted wool Clan tartan selections unless otherwise noted. See the
Tartan List
for names available.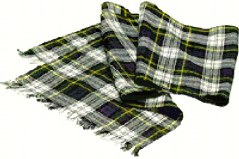 Worsted Wool Scarves 10.5"x54" available in most names.
WWS Spring weight $39.99 each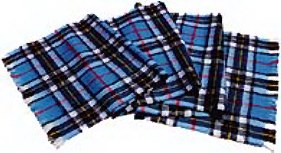 Brushed Lambs wool scarves
11.25"x54" available in 75 tartans. ( see * on tartan list )
BWS $29.99 each
CMMS: Mohair Scarf (Not Shown) $39.99 each
55% Mohair 45% soft wool. Available in the following tartans only...
Black Watch,Isle of Skye,Lindsay,National Millennium.
Sashes & Shawls
Worsted wool sashes
available in all 487 Clan tartans, plus National Mellennium,
Pride of Scotland,Maple Leaf and Nova Scotia.
10.5"x90" plus 5" fringe on the ends .
100% new worsted wool.
WWSASP $52.99 each
Tartan Stole - Reiver ( Not shown )
size 18"x72" available in 260 tartans
KTSTP: Tart. Stole $129.99 each
These items are made to order and may require 4-8 weeks for delivery from Scotland.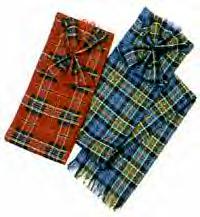 Spring weight Mini Rosette Sash
Size 5"x26", fabric rosette at top,suitable for attaching clan badge
or brooch ( not included ) to blouse / blazer.
Rosette $29.99 each available in most tartans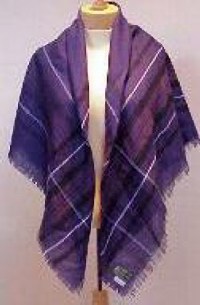 Tartan Shawl
Size 47"x47" 10oz Reiver Tartan available in the following only;
Black Watch,Douglas,Gordon Dress,Lindsay,Maclean of Duart,National Mellennium,Pride of Scotland and Stewart Black,Dress or Royal.
HSHB: Shawl $174.99 each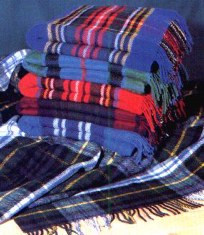 SITR: Traveling rug AKA Stadium blankets $139.99
Size 56"x72" with 3.5" fringe on ends.100% New Wool.
Please order by clan name by inputing the name on the shopping cart page. Blankets may not be available in all tartans listed year round.
Available in the following Scottish tartans,,,
Anderson, Armstrong, Austin, Baird, Black Watch*, Buchanan Modern, Cammeron of Erracht*
,Campbell Dress Modern, Campbell Clan, Clergy, Douglas*,Farquharson, Ferguson, Fraser Red Dress, Glasgow, Gordon Clan, Gordon Dress, Graham of Mentieth, Graham of Montrose, Gunn Modern, Grant Clan Anc., Hunter, Johnstone, Kennedy, Lindsay*, MacBeth, MacDonald Clan*, MacDougall, Macfarlane, MacGregor, MacIntosh Red, MacKay, MacKenzie*, MacLean of Duart, MacLaine of Lochbuie, MacLeod of Harris, MacNeil of Barra, MacPherson*, MacRae, Murray of Atholl, Robertson, Ross Hunting, Smith Modern, Stewart Dress, Stewart Hunting Modern, Stewart Royal Modern, Sutherland Old, Wallace Mod, Wallace Htg. Wilson Anc.
Full Size : 56"x72". 100% new lambs wool. $139.99 each