Historical & Clan
Clan Heritage Books
Available in 46 Scottish Clan names. See Also the :
Clan Sept Names
to see if your family belongs to a larger recognized clan.
34 pages of Clan History complete with maps and illustrations.
Size 5.75 x 8.25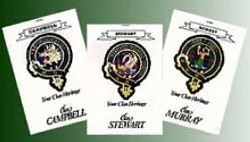 Clan Heritage Book $12.99 each
Available in the following clan names only...
Anderson, Armstrong, Bruce, Buchanan, Cameron, Campbell,
Colquhoun, Davidson, Douglas,
Farguharson, Forbes, Fraser, Gordon, Graham, Grant,
Gunn, Hamilton, Johnston, Keith, Lamont,
Lindsay ( Crawford ), MacDonald, MacDougall, MacFarlane,
MacGregor, MacIntyre, MacKay, Mackenzie, MacKinnon,
MacKintosh ( McIntosh, MacIntosh ), MacLaren, MacLean, MacLeod,
MacMillian, MacPherson, MacRae, Morrison,
Munro, Murray, Robertson, Ross,
Scott, Sinclair, Stewart, Sutherland, Wallace.