Children's Kilts & Dresses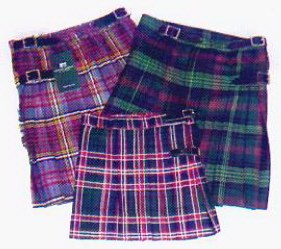 Stock Childs Kilt
Available for ages 3-8 or 9-14.
Tartans available are Isle of Skye,Pride of Scotland,Lindsay,
Black Watch ( Old Campbell ), Robertson Red and Royal Stewart.
CHKI38: Age 3-8 $99.99 each
CHK914: Age 9-14 $109.99 each
Custom Made Childs Kilt
We require four measurements when placing an order...1. Height , 2. Natural waist , 3. Hips ( at widest point ) and 4.Top of hip to floor. A kilt that goes to the middle of the knee will just touch the floor when in a kneeling position.The kilt maker will automatically add 2.25" above the hipbone to allow for a belt.
Hand pleated in all new worsted wool.Available in all 500 tartans.
Max length 24", max waist 26".
INKILT: Infant Kilt Reiver tartan $89.99 each
CMCK3: Custom made childs kilt age 3-8 $149.99 each
CMCK9: Custom made childs kilt ages 9-14 $189.99 each