Irish County Tartan Products
The Irish County tartans shown on this page are available in wool kilts,ties,
scarves and by the yard only. Special order item allow 4-8 weeks for delivery. To find out what Irish county your family has connections to please see the
Irish Names & Origins
page of this site. If you are looking for Scottish Tartans please see the
Tartan List
page.
Irish tartans of a general nature include the St. Patrick's or Tara/Murphy which is available in all worsted wool readymades shown on the
Highland Wear
page of this site.

L-R , Antrim,Armagh,Carlow,Cavan,Clare,Cork,Donegal,Down

L-R, Dublin,Fermanagh,Galway,Kerry,Kildare,Kilkenny,Laois,Leitrim

L-R, Limrick,Londonderry,Longford,Louth,Mayo,Meath,Monaghan,Offlay

L-R, Roscommon,Sligo,Tipperary,Tyrone,Waterford,Westmeath,Wexford,Wicklow
General Tartans for Irish Families available in all worsted wool readymades.


Tara/Murphy St. Patrick's
Some distortion and or color variation may appear due to your monitor settings.
Please specify which County you desire on the shopping cart page when ordering
Irish County Tartan Mens Dress Kilt: $569.99 each
Your choice of all 32 Irish county Tartans shown above.
Lightweight Irish Tartan Wool Tie: $24.99 each
Medium-weight Irish Tartan Wool Tie: $29.99 each
Irish Tartan Wool Scarf: $29.99 each
Irish Lambs Wool Scarf: $34.99 each
The above items are special order and may take 4-8 weeks for delivery.
These kilts from Ireland are made in stock waist sizes and are an excellent value. they are suitable for someone to wear to a highland/Celtic gathering or wedding without the expense involved in having one made to measure. For a more formal kilt see the
Mens Kilts
page of this site. For ladies kilted skirts see the
Ladies Kilted Skirts
page. Delivery from Ireland in aproximately 4-12 weeks for most orders.
Available in a limited range of tartans shown below and in men's waist sizes from 28-48.
All kilts are a standard 23" in length.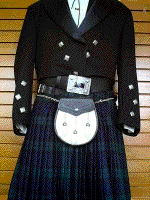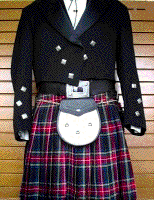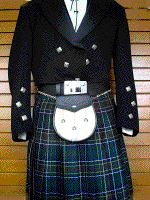 L-R: Black Watch, Black Stewart, Cockburn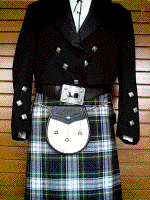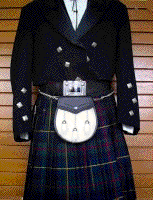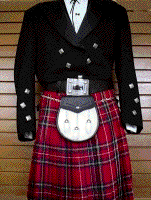 L-R: Dress Gordon, MacLeod Hunting, Royal Stewart.
( Jackets and accessories sold seperately )
Please specify the tartan desired on the shopping cart page.
Irish made Casual Kilt $489.99 each