Irish Gifts & Novelties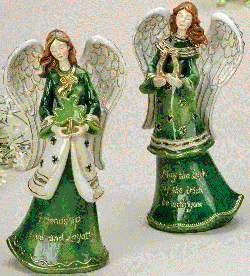 Set/2 Porcelain Roman Collectables Irish Angels - Roman, creator of the Seraphim angel collection now brings you this porcelain Irish pair. Nice quality, measure 10 1/2" tall. One says "Friendship, love and loyalty", and the other "May the luck of the Irish be with you".
$59.99 per set of two plus shipping.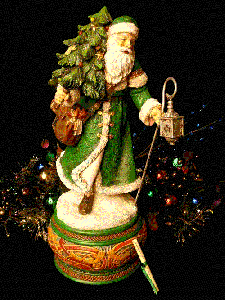 Irish Santa w/Irish Blessing - This is a licensed Roman Collectables item, has a hidden drawer on the bottom of the piece with a sliding drawer which contains the scroll which says "May you live a long life, full of gladness and health with a pocket full of gold as the least of your wealth. May the dreams you hold dearest be those which come true. The kindness you spread keep returning to you. " Stone resin, comes in a super nice full color gift box. Measures 12" x 5". $59.99 each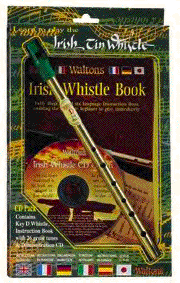 "D" Irish Tin Whistle with book & play-along CD $26.99 each
Irish Tunes $26.99
These designs are made in Ireland by one of the premier ceramic manufacturers in the Republic of Ireland. Each is finely detailed with a delicate Shamrock pattern. Shipped from the manufacturer so please allow 4-6 weeks for delivery and customs clearance.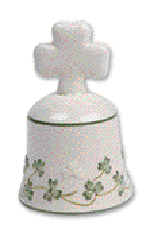 Watervale Shamrock Bell $19.99 each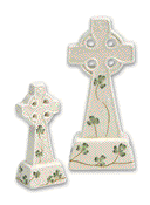 Watervale Shamrock Celtic Cross $ $19.99 each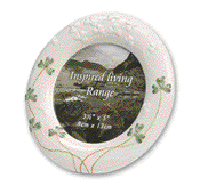 Watervale Shamrock Oval Frame $27.99 each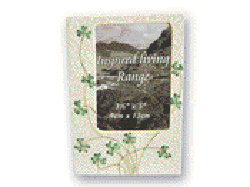 Watervale Shamrock Rectangle Frame 29.99 each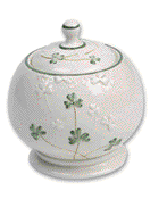 Watervale Shamrock sugar bowl $21.50 each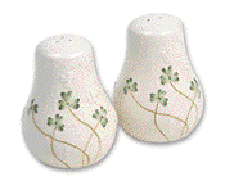 Watervale Shamrock Salt & Pepper Set $24.99 set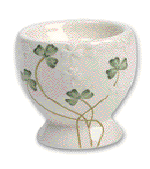 Watervale Shamrock Egg Cup Set $24.99 set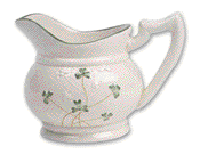 Watervale Shamrock creamer $24.99 each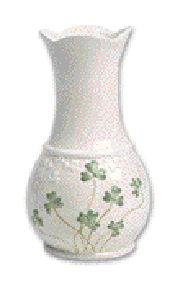 Watervale Shamrock flower vase $42.99 each