Bagpipes
We carry a full line of Bag Pipes, Drums and Accessories, many of which are not shown on this page. If you do not see what you are looking for please call 270-886-2010 or use the form on the
Bagpipes are available as Kitchen Pipes, Practice Pipes, Small Pipes, Great Highland Pipes or Irish Uilleann. Brands available include Walsh, Sheppard, Dunbar, Kennedy & Gibson. Drums and drumming accessories also availabe.
Bagpapies are a composition instrument consisting of various parts
as shown in the illustration below.
Bag Pipes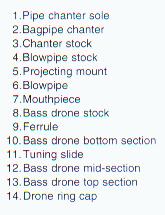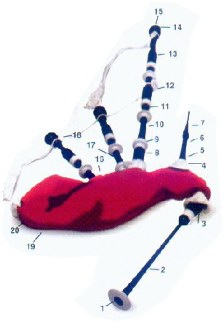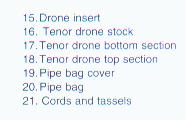 Bagpipes are available in many different sizes and configuartions. Each has a choice of trim ,bag, mounts and composition, whether Polypenco or African Blackwood. Each of these variables as well as brand name effect the final price. Please call 270-886-2010 for a price quote.
#1 Im Blackwood Antique Style, #2 IM Ivory with Nickel Ferrules, #3 IM Ivory Mounts & ferrules, #4 Im Ivory Mounts, Plain Nickle Ferrules and Slides,#5 IM Ivory Mounts, Chased Nickle Ferrules and Slides.
Gaelic Dreams can provide you with all you Pipe Band needs. We offer Tenor, Bass and Snare drums by either Hosbit or Premier, plus a full range of accessories, cases and replacement parts. Music too!
Bulk band orders for pipes, drums or accesories receive a discount based on the total purchase ranging from 5-25% off the list price.
For more information please call 270-886-0010.